We provide gently used soccer equipment to children in developing nations that do not have access to quality gear. We collect equipment in the United States, and work with international organizations to deliver it to areas in need. It is our goal to provide children with greater opportunities for success by developing athletics alongside our other education projects.
Collect:  Gather up any old equipment you don't use anymore. Reach out to teammates, friends and family too!
Send: Send the equipment to AWA. We have members across the US to provide a shipping location near you. 
Identify: We identify organizations travelling to developing countries, who are interested in taking gear and holding an event.
Play: We send gear to these groups, and they take it with them to give to kids on their trip. We also provide guidance on holding tournaments or camps for the schools and clubs receiving the equipment.
All We Are hosts an annual soccer tournament to mark the donation of our gear.  What's it look like? It's a competition between teams from multiple local schools.  All participating schools are the recipients of our donated equipment, including hundreds of pounds of cleats, balls, and full soccer uniforms.  
2016 Donations 
AWA 2016 trip: 450 pounds | Kampala, Uganda
Matt Price - 200 pounds | Dodoma, Tanzania
Embrace Uganda - 175 pounds | Koreng, Uganda
Dale Reeves - 100 pounds | Accra, Ghana
2015 Donations 
AWA 2015 trip: 150 pounds | Kampala, Uganda
Crossing Church in Costa Mesa, CA: 100 pounds | Rukungiri, Uganda
When poverty and unemployment are at very high levels, kids often turn to unhealthy alternatives to fill their time.

We work with organizations that provide HIV/AIDS, drug, alcohol, and personal hygiene education at camps and tournaments.

These organizations have found that kids are more likely to listen to coaches when these concepts are introduced in a more casual setting, rather than in a traditional classroom setting.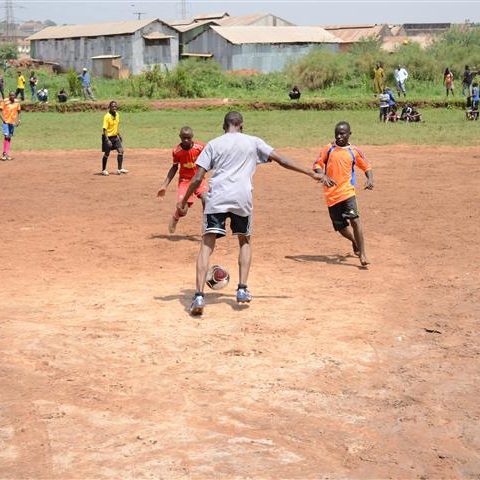 Frequently Asked Questions
Pretty much all types! We are in greatest need of kids-size cleats and size 4 soccer balls. However, we also collect jerseys, shorts, shinguards, goalie gloves, ball pumps, cones, and training gear.
Consider holding your own equipment drive, fundraising campaign, or awareness tournament!
Interested in donating your gently used gear to a great cause?  Fill out the form below and we'll take care of the hard stuff. After submitting the form, an All We Are member will contact you with more information on how to best ship the equipment to us.